Walleye Fishing
Northern Ontario
Pickerel Fishing in the Spanish River Provincial Park Area
At Shooting Star Camp we have Great Walleye Fishing
Without a doubt the walleye is the undisputed winner of just about every fisherman's popularity contest. Despite the fact that many other species of fish offer an equal, if not better fight, the walleye's supremacy in the skillet and at the dinner table has undeniably crowned them the king of eating fish. For those fishermen wishing to catch walleye in both abundant numbers, as well as larger sizes, they will discover Shooting Star Camp to be an excellent choice. People ask us where is the best place to fish for walleye in Ontario? Our remote waters offer an abundance of ideal fishing locations from which you may choose. Whether you prefer to jig the currents edge at the base of a roaring rapids or narrows, or prefer trolling crank and stick baits along mud flats and weed line edges, or the simplicity of drifting or anchoring off rocky points, mid water humps or holes, we have it all. Shooting Star Camp allows you the freedom and flexibility to choose your own fishing adventure, and has walleye fishing that will satisfy everyone.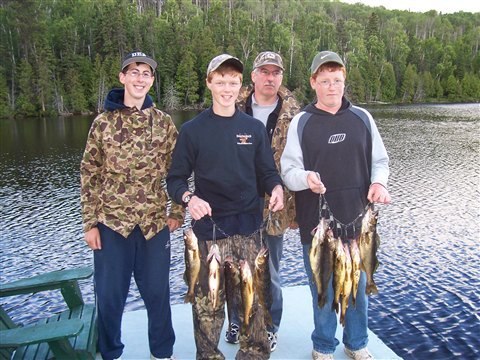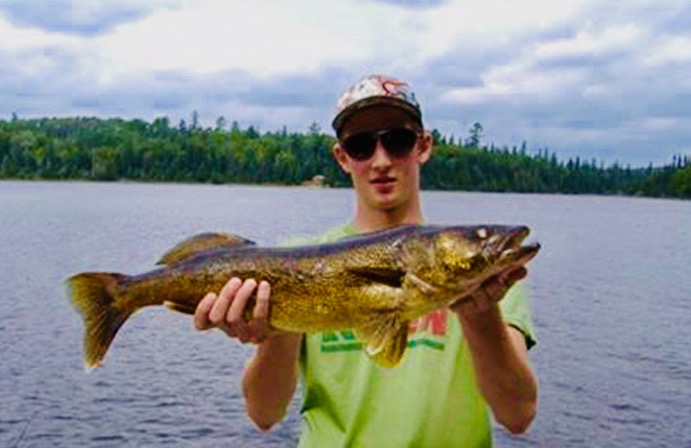 How to Catch Walleye in
Northern Ontario
We often get fisherman who, despite the fact they are fishing for walleye for the first time, still hope to fill their stringer, as well as their skillet. To better assist those fisherman, we would like to offer these basic observations of walleye behaviour in order to promote for a better understanding of walleye habits, movement and successful fishing. The first move important issue is sensitivity, which is represented in two distinct aspects. The walleye has a sensitivity to direct or intense sunlight, and from which they derive their name. The walleyes luminescent eyes are clearly designed to provide it the ability to effectively feed at night in the near total darkness of a lake or the rivers murky depths. The Ontario walleye can be equally comfortable utilizing the diminished light of an overcast sky or moonlight in which to forage. Experienced fisherman know that the intensity of the light will dictate at which depth walleyes will be holding or feeding. The more intense the light, the deeper the walleyes will typically hold. During the evening or morning hours, walleye can be found feeding in shallower areas.
Where do I fish for Walleye?
Locating walleye in Ontario rivers and lakes can be easy if you think of two things. The movment of the walleye is defined by depth and cover. Walleye will dependably seek out a location which provides the diminished light conditions they require as well as for potential feeding opportunities such as weed beds or other structure. In addition, walleyes will be found consistently directly on the bottom or within two to three feet of it. This area near the bottom is where walleyes are found, and it is where they lay and feed, knowing this requires that you present your bait or lure consistenly within this strike zone. If you keep this in mind it will produced the desired results when fishing for walleye.
Another equally important consideration is in knowing at which depth and locations the natural feed and bait fish are to be found. The choices will range from mid water humps and holes of varying depths to rocky drop offs, weed edges and mud flats in a variety of depths from 6 to 40 feet. We can help you find these great spots and within a few days the average fisherman will be able to confidently predict and locate walleyes successfully.
What equipment do I need for Walleye Fishing?
Once you have located the fish, catching your walleye dinners now becomes reliant upon the equipment , bait selection and presentation. The first concern should be with your equipment, and once again, sensitivity plays a part. Your rod selection should be such as to provide excellent tip and handling sensitivity that will easily allow you to distinguish between slow, easy striking walleyes or bottom contact. In most cases, a cork handled medium light rod of 6 1/2 to 7 feet is an excellent choice as it provides the sensitivity as well as through its flex and required stiffness necessary to hook setting as well as playing and control of the fish. Your line selection is of equal important when fishing for walleye. Although the waters of the Spanish River area are tea stained, as walleyes prefer, we encourage the use of flurorcarbons or similarly difficult to see lines in the 6-10 pound class. We do not encourage the use of braided or spider lines as they are extremely hard on the lower unit seals should an angler get their line in the outboard prop. Another factor to consider when fishing for walleye is that the use of a leader be used only when trolling or casting. We recommend a black 4 to 6 inch wire leader when fishing for walleyes. When fishing for walleyes with jigs, we recommend that you tie directly to it or use a snap swivel. This method of fishing will provide the maximum necessary sensitivity when fishing using jigs for walleye. When you are rigged as described and apply the basic fundamentals of locating walleyes as outlined above, you may rest assured that during your week at Shooting Star Camp you will undoubtedly have a very enjoyable time fill both your stringer and skillet with plenty of walleyes. So remember, always check your drag, keep your rod tip up, your hooks sharp and the cooking oil hot…