Spring Bear Hunt in Ontario
We at Shooting Star Camp are extremely excited to once again be able to offer our guests spring bear hunts. While we have been very successful in providing quality fall hunts, and will continue to do so, the spring hunt offers hunters their first chance to get back into the woods and hunt for big game after another long winters wait. Given the lack of available natural feed, the spring season definitely offers increased opportunities for active baits, sightings of multiple bears, and harvesting success.     
Trophy Sized Bears
During the closure of the spring bear hunt, some of our most productive spring hunting camps had to be shut down as they simply did not offer the same quality of hunt and opportunities in the fall. As a result, these select camps have remained closed to bear hunting for well over a decade, which has had a definite impact on the bear population in these areas, allowing both the numbers and size of bears to grow accordingly. With the reopening of the spring hunt, our hunters will definitely benefit and enjoy excellent results in both bear sightings and harvesting, with the possibility of some truly exceptional trophy size bears to be taken.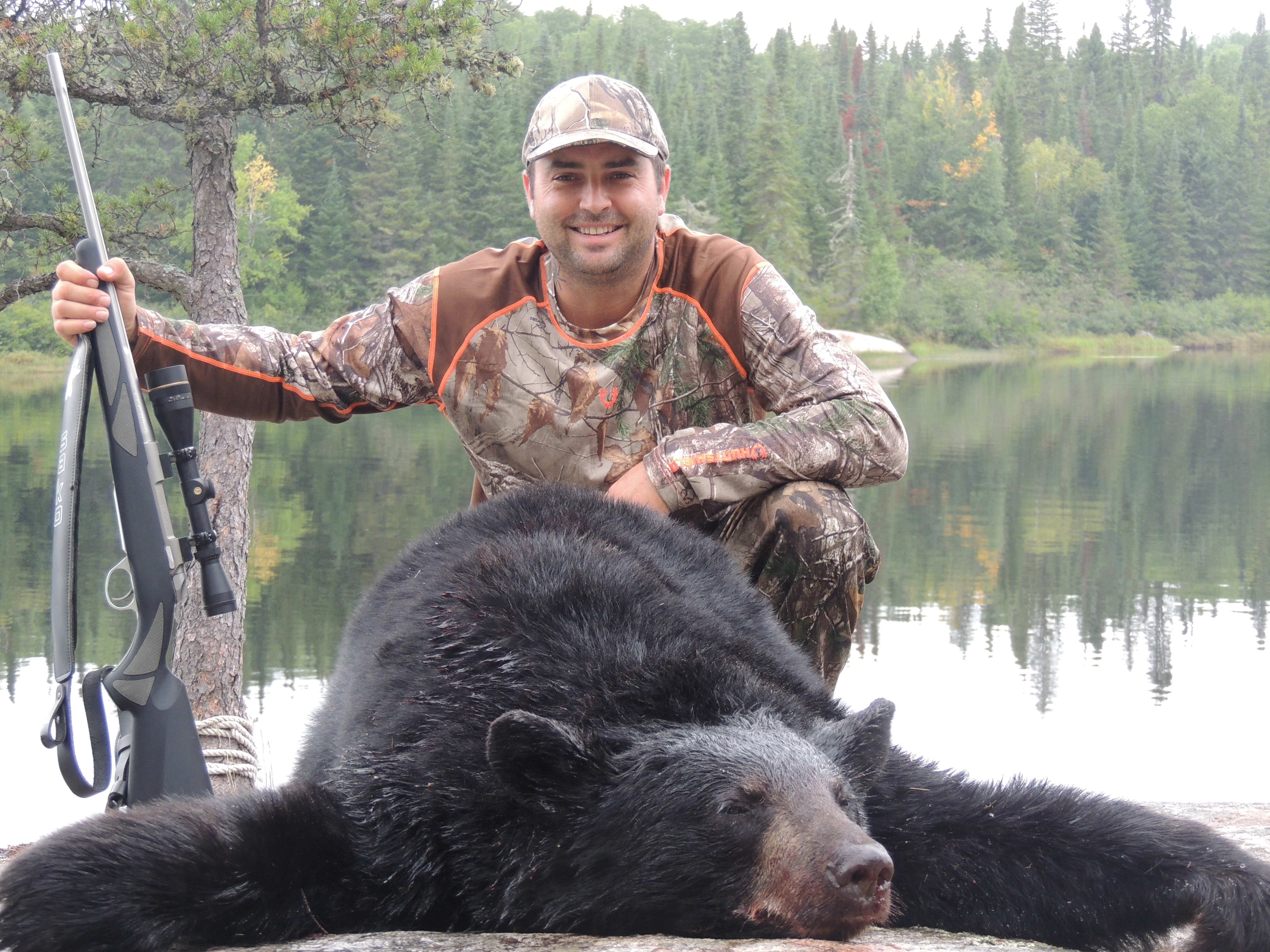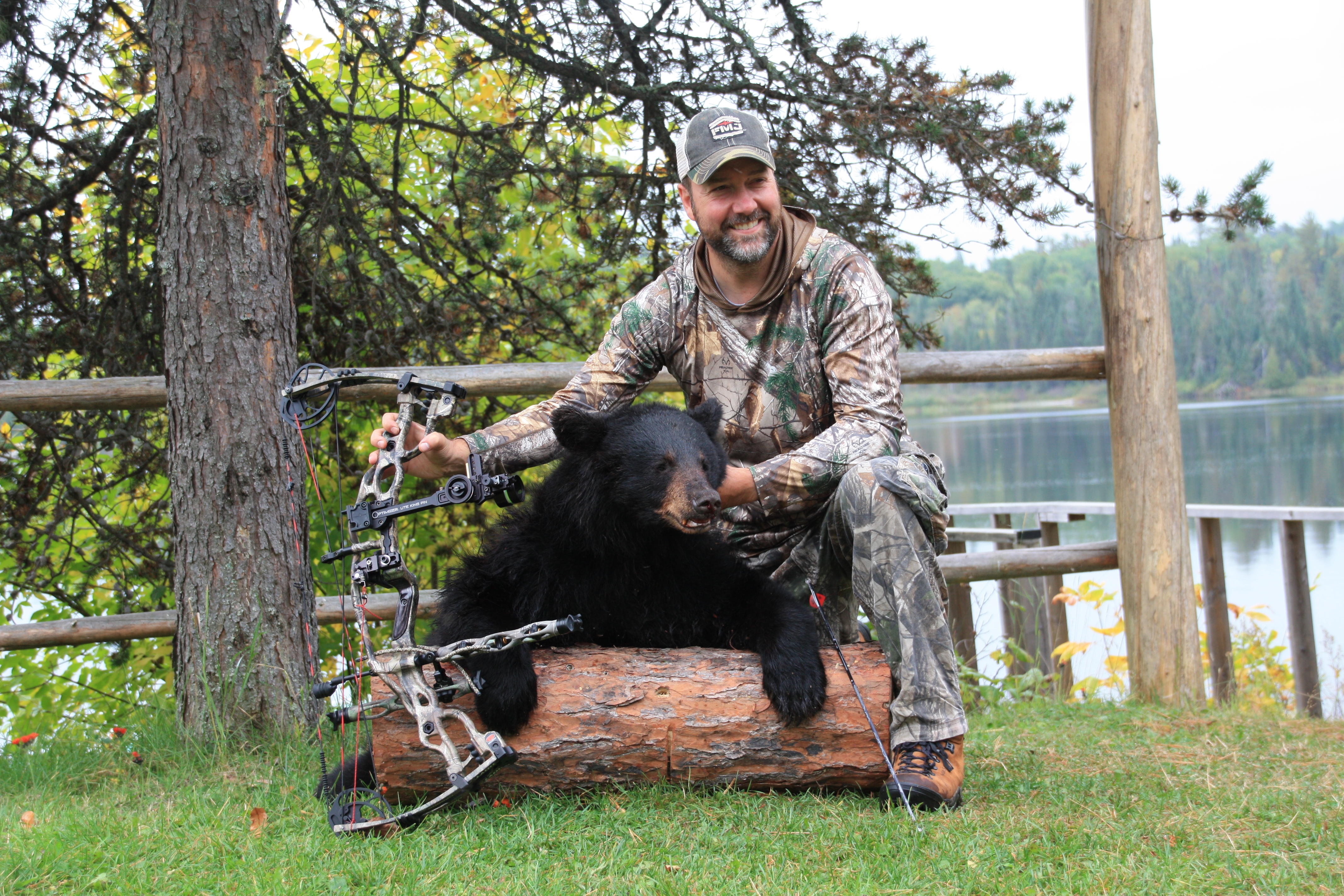 Quality Bear Hunting Experiences
Given that it is always our aim to provide a quality experience with the highest opportunity for success, only a limited number of hunts and hunters will be booked. These will be fully baited hunts, which provide extensive pre-hunt baiting, multiple baits per hunter, stands: hanging tree, ladder or tower stands (no fixed wooden platform types). We will choose stand type based on hunter preferences or area requirements and hunting style- Rifle, muzzleloader, bow or crossbow. In addition, specific outpost camp locations will provide the opportunity to utilize ATV's, if desired.
We heartily encourage those hunters interested in renewing what was previously their traditional first big game hunt of each season to contact us. We will be only too happy to discuss our hunt and provide any additional details required. We look forward to hearing from you and to the opportunity to assist you in making your Northern Ontario bear hunting wishes come true at Shooting Star Camp.            

Good Hunting.
Fully Guided Spot and Stalk Bear Hunt 
This year, experience the thrill of bear hunting as never before. We invite you to take up the challenge and exhilaration of hunting bears naturally, without the aid of dogs or baits.
Shooting Star Camp is one of the few camps to specialize in and offer this style of hunting, and with over 15 years of experience our hunts are as exciting as they are successful. With the assistance of your guide, you will cruise a large area, glassing relatively new forestry cuts that provide excellent natural food sources and high visibility. Over the course of the hunt, you can expect to see numerous bears and have multiple stalking opportunities.
Although bears possess excellent senses of smell, vision and hearing, we have been very successful in assisting hunters in reaching comfortable shooting ranges. While this style of hunting definitely favors the rifle or muzzleloader hunter, it is possible for patient archers to also stalk within range. So don't delay! Treat yourself and your friends to a truly unique hunt that makes every animal a true trophy and memories that will last a lifetime.
Guided Black Bear Hunting
Over 35 years of Experience
Shooting Star Camp's fully guided, baited hunts are designed to appeal to a wide variety of hunters, regardless of age, ability, or experience level. Hunts are conducted exclusively within our remote bear management area which provides over 100 square miles of prime black bear habitat, thus ensuring our hunters of a very high quality outdoor experience.
Our ability to hunt both natural habitat, as well as older forestry clear cuts, has provided our hunters with exceptionally opportunities and results. Furthermore, our area enjoys a high bear population, and due to the limited number of hunts we offer, the density and trophy quality of our animals is excellent. We strongly encourage our hunters to use a high degree of patience and discretion while on stand in order to ensure that they harvest the highest quality animal possible.
Bait locations are picked with extreme care, and pre-baiting begins weeks in advance of your arrival. Each hunter is guaranteed a minimum of two bait locations which have not been previously hunted.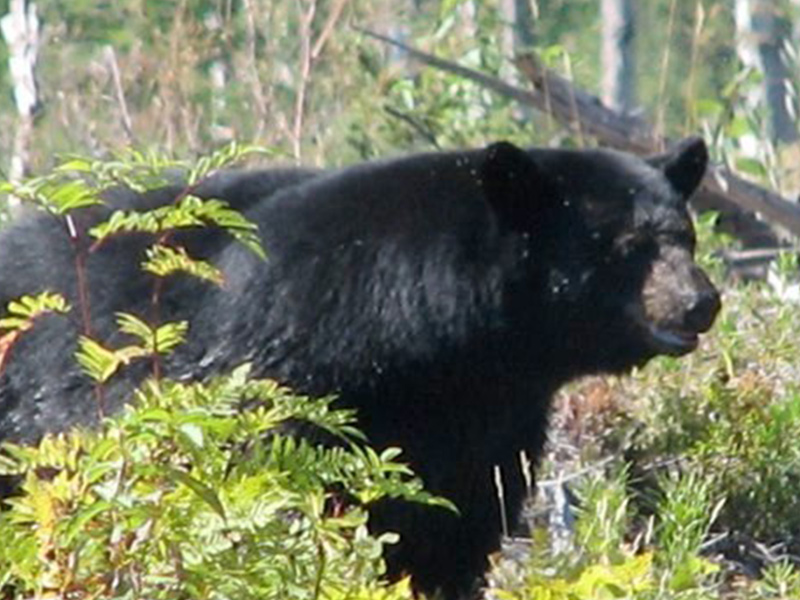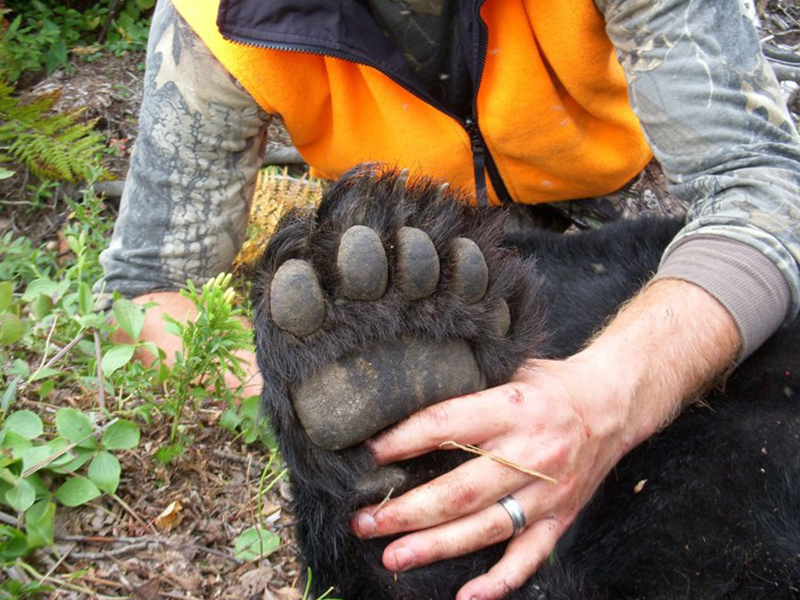 Our rifle hunters will have available a number of stand types from which to select. We offer hanging tree stands, ladder style (single & double), as well as tower stands. We even offer, for those who require it, ground blinds strategically located to provide exceptional visibility, cover, and the opportunity to view animals in a relaxed atmosphere. Stands are located at specific yardages within easy shooting ranges for your convenience and accuracy. We do not utilize fixed permanent stands as animals will become conditioned to those sites and result in poor sightings and opportunities.
Our archery hunters continue to rely on the use of tree stands to provide both cover and proximity to baits. Both self-climbers and ladder style stands work well. Jack Pine, Birch, and Poplar are our most abundant tree species. Each site offers multiple trees and good cover for hunters to choose from. Shots will be in the 18-30 yard range. In order to further assist you, all bait sites will be equipped with highly visible height markers to allow for easy and quick game evaluation. Guides will assist in transportation of hunters/game to and from hunting sites, as well as perform re-baiting duties.
Typically, hunters will be in the stand location from 4:00 p.m. until near dark. Radio communication is available and provides for early pick-up, game retrieval, and safety. Hunting earlier in the day is available, if so desired.
For those that are interested, Hunting for timber wolves is available on a limited basis. Inquire for prices. During the mornings and afternoons, hunters will have the opportunity to further relax, indulge in our excellent fishing, or simply explore our beautiful area.
If you are discouraged with your past trophies, lack of success or simply the quality of the game you're seeing–stop wishing for a great hunt, and join us this year! Make this year's bear hunt be the hunt of your dreams.
Do It Yourself Baited Bear Hunts
These hunts are designed to appeal to those archery or rifle hunters who enjoy a greater degree of personal involvement and self-sufficiency.
Hunts are conducted in wilderness settings using your outpost accommodation as your base of operation.
Boats and motors are provided to access those baits sites that are only reachable by water and hunters are encouraged to bring 4 wheelers which will allow them access to our inland baits using our wilderness trail network.
All bait locations are carefully selected and located in proximity to natural features that either draw or funnel bears into these locations. Pre-baiting will commence weeks in advance of your arrival to ensure active baits.
As an added thrill, you will have the opportunity to enjoy our excellent fishing, either before each day's hunt or after your tag is successfully filled, the choice will be yours to decide how to spend your time when not hunting.
So, don't delay! Join the many hunters whose outdoor dreams have come true while hunting at Shooting Star Camp.