Northern Ontario Pike
For many fisherman, fishing for and catching Northern Pike is as good as it gets. Due to their aggressive nature, voracious appetite, outstanding fishing quality and ability to grow to enormous sizes explains the popularity and desirability of the Northern Pike with sportsmen of every generation.
At Shooting Star Camp we feel extremely fortunate to be able to offer our guests excellent opportunities for not only fast and numerous Northern Pike fishing but for trophy class sizes as well.
The Spanish River and surrounding lakes are blessed with an abundance of waters and structure which is both ideally suited and necessary to providing the quality of Northern Pike fishing which fisherman desire. One of the many benefits of our remote location combined with our being the only outfitters established within their area ensure that fishing pressure remains light and the quality of fishing is high.
When is the best time to come to fish for Northern Pike and what tackle do you recommend for them?
In our opinion, the best way to answer these questions is to start by establishing what the fisherman's priorities are. As most experienced fishermen know, trophy Northern Pike are extremely sensitive to warmer water temperatures and, as such are definitely more active and likely to be caught during the months of May, June, September and October when water temperatures are typically cool.
These same months will also produce good fishing results in both numbers and fish fishing for Northern pike of smaller sizes 24″-32″. During the summer months of July and August when water temps will be at their warmest, weed growth will have also have reached its peak development.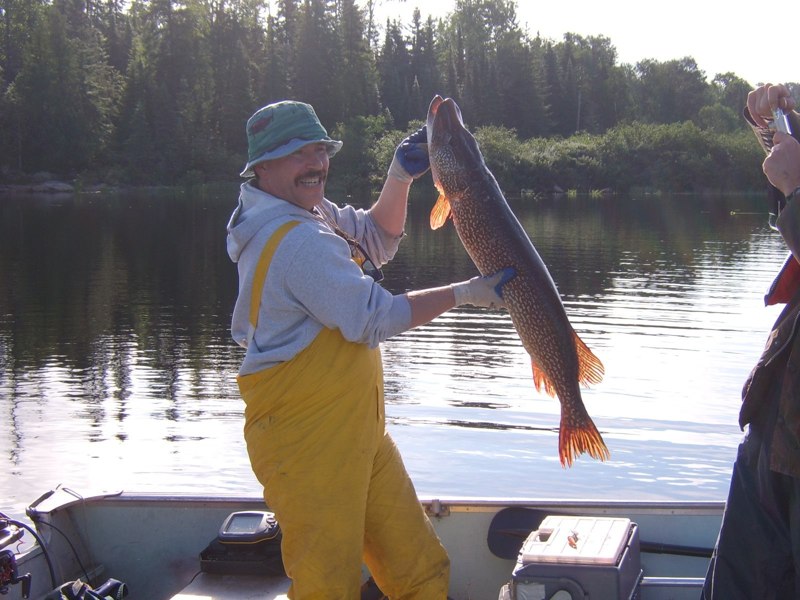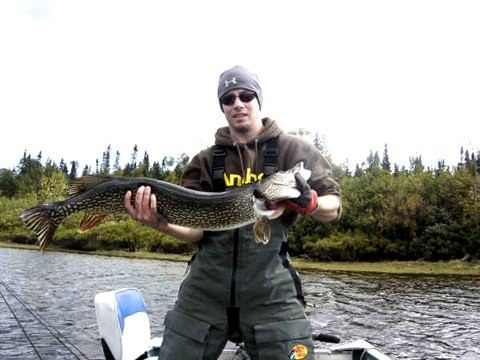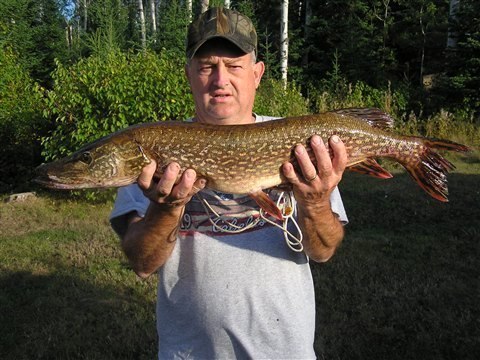 How to Best Catch Trophy Northern Pike in the Spanish River
In the Spanish River area, we have found that one of the best baited methods to catch trophy pike is to drift fish using large 6″-10″ live sucker or chub minnows rigged with a single or treble hook suspended from a float fished from 5′-15′ in depth. We have also seen great success when using large or over sized Rapala body baits. The most popular colours used when fishing for Northern Pike are perch immitation and the classic red and white. Both spoons and spinners are also equally popular and effective. Each provide both the flash and action that pike as well as fisherman find irresistble. The key here is to remember that these lures provide veratility, in that they can be fished different depths, rate of retrieve and are available in a vast array of proven traditional color patterns. In terms of fun fishing for medium ised pike, think buzz baits, or spinnerbaits as they have proven estremely popular and succcessful especially when fishing weed beds and edges.
Last but not least, fisherman should consider using 6-10 inch black steel leaders as well as line in the 12-15 pound category for larger fish and 6-8 pound for medium fish. We request that all our guest release any trophy sized Northern Pike after photographing them, please consider brining an appropriate cradle style neoprene net to assist the process. Finally as every experienced pike fisherman knows and all rookies quickly learn , is that you don't want to forget to have at least one pair of good needle nosed pliers to assist in hook removal, if not many have learned the hard way and felt the barb of their own hooks. It is our hope that these brief suggestions will assist you in preparing for what will be a great pike fishing experience with Shooting Star Camp!