Bass Fishing in Northern Ontario 
When it comes to fishing there's fish and there there is Smallmouth bass. It has often been stated that pound for pound the Smallmouth bass is the fight-ingest freshwater fish in North America. Those of us who have chosen to pursue the smallmouth know this to be an accurate assessment of its personality rather than an exaggeration of their tenacity, acrobatic skill or sheer fighting determination. Few other fish can combine these chracteristics while also providing such enjoyably divese opportunities in fishing style from ultra light spinning rods using Texas rigged rubber worms to top water fishing with poppers or deer hair flies. So whether you consider yourself a Smallmouth fishing fanatic or are simply fishermen wishing to experience catching your first bass, Shooting Star Camp can be counted on to put you in exactly the right location.
For those fishermen who desire to experience smallmouth fishing for the first time or wish to enjoy them equally without the need to give up their favourite walleye and northern pike fishing, we are fortunate in our ability to offer outstanding outpost cabins located in ideal settings where you can fish for all three of these species.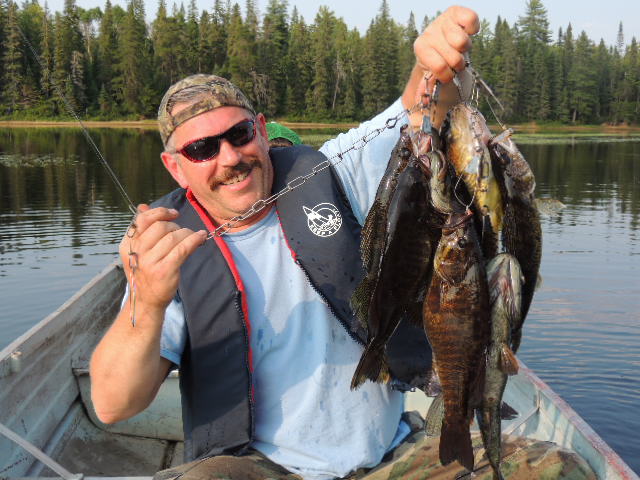 Smallmouth Bass fishing Trips in Northern Ontario
These sites provide diversity at its best, where after taking your limit of morning walleye or after pike in the weeds, you may choose to experiment in casting jigs or spinners at the edges of current for waiting agressive smallmouth or experience the thrill of having smallmouth smashing your surface lures while fishing evening top water. The fishing variety adds to the excitement, because you can never be certain what your next cast or strike will yield.
For those fishermen whose first and only choice will always be Smallmouth Bass, we are extremely pleased to be able to offer you a location that may very well provide you the best bass fishing you will ever experience. Picture for a moment a cluster of three pristine remote lakes that rarely get fished, nestled amidst towering pines, a setting where scenery remoteness and fishing combine to form the perfect experience. Where under the back drop of soaring eagles and calling loons you will have the daily opportunity and choice as to which water body you wish to explore and fish. This incredible river system of the Spanish River and surrounding in land lakes offer a diverse selection of outstanding structure which combines to create truly outstanding smallmouth fishing in both numbers of fish as well as trophy sizes. Under normal circumstances you may expect to catch bass of over 19″ regularily, we had groups in which every fisherman caught bass of over 20 " during their trip. In area of the Spanish River Provincial Park area, our truly trophy sized Smallmouth bass are in the six to seven pound class. the main lake in this system has an excellent population of Lake Trout where the average fish is from five to seven pounds but has also seen fish as large as twenty five pounds.
So make sure you have your camera, put together your favourite spinning or fly rods, sort through your favourite tackle and gear and give us a call. Let Shooting Star Camp provide you with a fishing trip and experience that will keep you smiling as well as wishing to return.